In an agreement on Sunday, the Iranian authorities allowed the team of international nuclear site inspectors to install new memory cards for surveillance into cameras at its top-notch nuclear sites. This permission by Iran is being seen as a wise aversion to a possible diplomatic showdown.
Mohammad Eslami, a member of the Atomic Energy Organization of Iran held talks with the director-general of the International Atomic Energy Agency (IAEA), Rafael Grossi, and announced the permission to install the memory cards afterward.
Grossi upon his return, in a statement to the Associated Press, said, "We had a major, major communication breakdown with Iran, which, of course, is something we cannot afford, having so many important issues that we need to solve. And I think that was solved."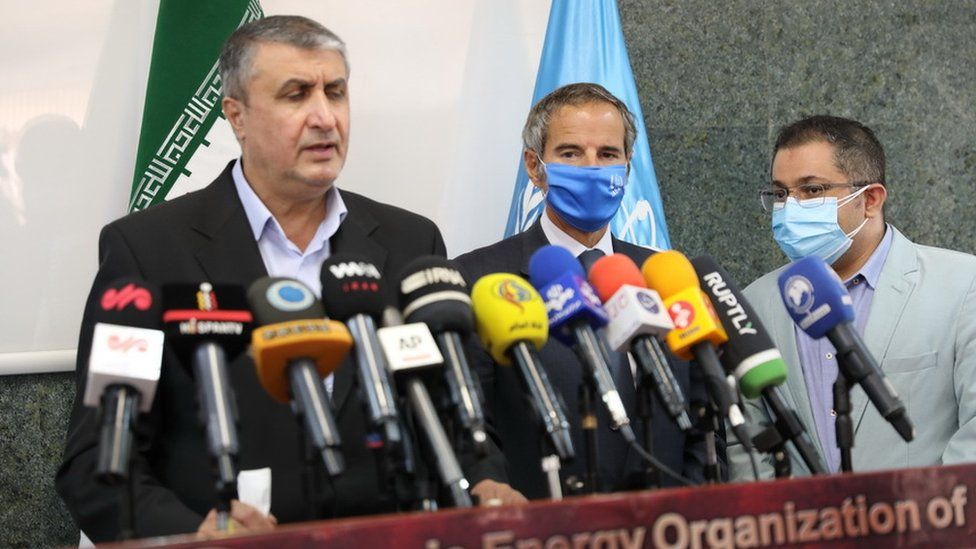 Both the organizations, IAEA and the Iranian Atomic Energy Organization, in a joint statement, said, that they had "reaffirmed the spirit of cooperation." Both the organizations also made a mutual pledge to make sure that future discussions on the matter continue.
The joint statement also issued permission for the inspectors to, "service the identified equipment and replace their storage media."
The future plans revealed by Grossi entailed that the recorded surveillance footage will be kept under secrecy inside Tehran, where currently the inspectors do not have any access to them. The chances are that in the future a broader agreement might take place and the 2015 nuclear deal is restored in its entirety.
Grossi also acknowledged that the agreement reached on Sunday will ensure a continuous exchange between the two organizations. He also said that the Iranian authorities will also allow the replacement of the damaged and broken cameras.
The agreement, although seemingly inconsequential at the moment can pave way for the Iranian government to fully open up to the idea of embracing the 2015 nuclear deal, the Joint Comprehensive Plan of Action, in its complete effect.
Reports by the United Nation's International Atomic Energy Agency alleging that Iran had been trying to stonewall its inspectors and had been placing hurdles in the way of their investigation were surfacing for a while now. Reports were also pointing towards a possible censuring of Iran by Western powers including by the US. Iran's recalcitrance was being named as being a possible cause for harming the prospects of its future talks concerning the 2015 nuclear deal.
The fate of the 2015 agreement has been uncertain since Donald Trump's pullout from the deal leading to the placement of new sanctions on Iran. The new Biden government along with several European nations has been trying to resurrect the deal.